Time has been flying! I feel like I just got here and I'm 1/3 of the way through. Ahh.
Two fun facts, 1. Voting is compulsory in Australia. Crazy huh?!
2. It is illegal to wash your car with a hose...I may or may not have broken the law.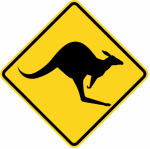 So we were just leaving our investigator's house, and their neighbors drive up and there's this massive dent in their car from hitting a kangaroo. They told us some crazy stories about hitting big reds, and I am slightly paranoid now. I've only seen the little gray kangas, but people hit them all the time. Coming out of Ellenbrook, there are always dead kangaroos on the side of the road.
I don't remember if I told you already, but a Samoan sister in our ward taught us how to pongi po po or coconut buns...and I don't like coconut, but I love these! There is another family in our ward who have a son who served around a lot of poly families, and so he loves coconut buns too...we tried to teach him how to make it after only having made it with her once, and it didn't turn out so well haha. They weren't awful, but experience definitely helps. We just need to connect the two of them so that she can teach him directly.
Recipe from internet - no guarantees
So we had a zone conference this week and got to watch Meet the Mormons! Maybe it's just because we haven't seen a movie in a while, but I loved it!! Go see it! Zone conference was the best. Elder Meurs of the 70 spoke to us, and we received some mean training on how to improve our teaching.
This is the last week of transfers. I can't believe how fast it went. I don't want to leave Ellenbrook at all! I've been here for a while though, so who knows what will happen...
We met this man who stopped coming to church when he was about 19 or 20, after he had his mission papers all set and everything, and we were talking to him about a lot of different things. He's been to America, and he loves root beer and he Baby Ruth candy bars and the Salt Lake Temple. He was complaining about American medical care though (his mom lives there) and he said that if Americans just had to pay taxes that we would be all set. We just kinda looked at each other and were like...umm, yup. Also he dated the wife of our elders quorum president.
Did I tell you about Harmony? We met her a couple weeks ago, and she is incredible. She recently decided to turn her life around, and has been praying for guidance. Then we came to her door! She has so much faith in Christ. When we taught her the Plan of Salvation she just knew it all already. Said it made sense and that it answered so many questions that she had. When we invited her to be baptized she started crying and said that she would love to. She was super pumped for a bit, and then her family got home from New Zealand, and they got super busy. They have to move in a couple weeks and they are trying to find a place for their whole family. So we are going to keep teaching her until she moves and then connect her with the missionaries there. She still is excited, but it really sad that her baptism will have to be pushed back. She feels like it is her purpose in life to find the truth and share it with her family. So she said that them moving in all together is perfect ha.
Life is good, we are working hard and having fun! I don't want transfers to come. I wish we had a couple more weeks at least. I love being a missionary! I love the gospel! It has brought so much joy into my life and I want to share it with everyone. It just makes so much sense. I know that Heavenly Father has a plan for each of us and that His goal for each of us is to return to live with Him and become like Him. Seems like a pretty tall order, but I know we can change and become better if we turn to our Saviour and ask for His help. I am gaining a much greater appreciation of the Atonement! It truly is the greatest gift!
I love all of yous! (I finally started saying yous every once in a while...I don't like that one, and I held out for so long, but oh well...what are you going to do). Hope you have a wonderful week!
Oate Alofa ia te Ou!
Love,
Sister Formica
When Sister Formica was in Arizona, she really connected with Carla, an investigator. She loved her dearly and had a hard time leaving because she wanted to keep working with her. The first email in my in-box this week was one line:
"MOM MOM MOM MOM MOM!!!!! CARLA WAS BAPTIZED!!!!!"
I think she was happy about that. Wendy from Arizona sent me some pictures and a summary of the baptism. We are so very happy for Carla! :)
Wendy and Carla
Carla and Sister Graham (Sis Formica's trainer)